Year 3 Weekly News 20.5.22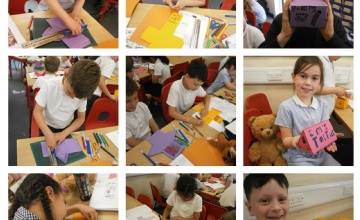 English
This week, we have been writing poetry to complement our book Charlie and the Chocolate Factory. We have been developing our skills such as. Expanded noun phrases, alliteration and using rhyme. We finished the week by writing a poem about our favourite chocolate bar. Next week, we will be writing non-chronological reports about chocolate.
Maths
In maths this week, we learnt how to add and subtract fractions. We now know that when adding and subtracting fractions of the same denomination, the denominator will be the same in the answer and the numerator will change depending on the operation. Next week we will be investigating duration of time.
Topic
For topic, we designed and created chocolate boxes. We used nets for our designs and then used card for our finished boxes. We needed to consider whether the box was strong enough to hold the weight of our chocolates, if the box was stable enough to be put into a shopping basket and to make our boxes colourful and eye-catching. We used simple tools to cut and score our boxes when putting them together. Next week we will be starting out RE unit: What is the Bible?
Spellings
Mr Arthur's Group: superhero, superglue, supersonic, superhuman, supermarket, superwoman
Mr Mason's Group: dizziness, jolliness, silliness, bossiness, sloppiness, happiness
Mrs Cousins Group: chew, threw, blew, flew, grew, screw
Love to Learn
We have two competitions we would love you to enter for your Love to Learn this week.
First we have a writing competition:
Kent's BIG writing competition - Deadline 31st May
Tell us about your heroes
The Kent and Medway Charity Team, in collaboration with KCC and the Reconnect Programme, is excited to give children and young people across Kent the opportunity to tell us about their heroes.
Over the past two years we have seen HEROES come in all shapes and sizes and we want you to tell us about your HERO! Your HERO could be your Mum, Dad, Brother, Sister or someone from your local community or even someone famous from where you live. They can be real or fictional and could even be a superhero – it's up to you! Your entry can be:
A short story
A poem
A short play
An essay
A comic
Or even a sound recording

It really is up to you. The ONLY thing you have to remember is that there needs to be a Hero at the centre of your entry but ALL entries MUST be a maximum of 500 words and completely your own individual and original work!

There will be three Kent Big Writing Challenge Champions selected from our district winners! All of our winners will be invited to an exclusive awards ceremony where they will be awarded:
A framed certificate
A celebratory book containing all the winning entries.
Overall Kent Champions will receive a specially designed glass trophy.
KCC will be funding a trip for the classes of the three overall winners.

*Other prizes will be confirmed at a later date.

Closing date: 31st May 2022

How to enter

The competition is open to ALL Kent children in the following three categories:
Category ONE – Key Stage 1 (ages 5 – 7)
Category TWO – Key Stage 2 (ages 7 – 11)
Category THREE – will combine Key Stages 3 and 4 (Ages 11 – 16)

We will select three winners in each of the following districts:
Ashford
Canterbury
Dartford
Dover
Folkestone and Hythe
Gravesham
Maidstone
Sevenoaks
Swale
Thanet
Tonbridge and Malling
Tunbridge Wells
Entries will only be accepted from students who attend schools in one of the Kent Districts mentioned above so we need you to give us the name of your school on the entry form or alternatively schools can submit entries for you.
If you are home schooled then you must select this on the drop down of schools and clearly give your full address and contact details on your entry.
You can either submit entries as electronic documents such as Word or PDF, as an audio file or post a paper copy. Contact us on 01227 475966 or charityteam@thekmgroup.co.uk should you require a pre-paid envelope for your entry.
Next, we have an amazing Art competition which have the details attached in the document below.