Weekly news: 10.6.22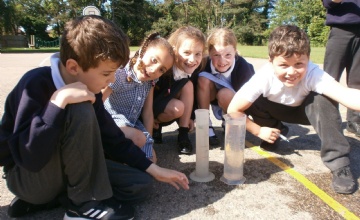 Year 3 have made a brilliant start to their final term! There has been lots of enthusiasm and a focus this week. Let's finish year 3 with a BANG!
English
For English this week, we started our new book, The Magic Faraway Tree by Enid Blyton. This wonderful book is fantastic for its rich, colourful characters and vivid settings. We have already used one of the characters (Saucepan Man) to start a character description using expanded noun phrases. Next week we will be continuing describing characters, as well as setting descriptions.
Maths
This week we started learning about volume and capacity. We used containers to try and make different volumes of water, often needing to read the scales on the side for accuracy. Next week we will be continuing with capacity and volume, adding, subtracting and dividing various volumes of liquid.
PSHE
This wee we had a whole day devoted to our new topic of aspirations. We discussed what we aspired to be in the future, not only considering jobs but also relationships and hobbies. We created rocket ships that we wrote some of our aspirations on showing that in year 3, we aim for the stars!
We also spent a whole day discussing money sense. We spoke about ways that we spend money such as using cash, cards and phones, budgeting and why it is important to look ahead before we spend. Finally, we discussed why we spend our money and how it affects our planet. We learnt about ethical spending and products that are make using fair trade standards.
Spellings
Mr Mason's Group: rattle, triangle, whistle, purple, jingle, angle
Mrs Cousin's Group: tick, quick, stick, lick, pick, chick, thick
Mr Athur's Group: leisure, closure, measure, treasure, enclosure, pleasure
Messages
White bags have been sent out with the children to fill for our school fair on the 24th June. If you are able to, we would like you to put some goodies in the bags for us to sell at the fair for a £1.
On Wednesday morning, we will be taking the children for a walk down to the rose garden by the boating pool as part of our new topic. A text was sent out in term 5. This a reminded that we will be going. If you have any concerns, please let your class teacher know.
Love To Learn
For your Love To Learn, We would like you to create a still life image of a flower or bunch of flowers. This can come in any form: photography, painting, drawing, chalk, pastel, lego, minecraft… any medium you would like to create your still life in!