Weekly News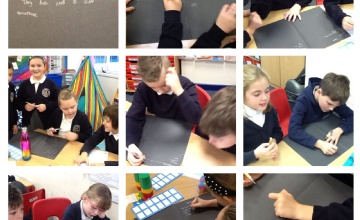 In Maths this week, we have been working on estimating, comparing and converting different measures. We have worked with length, mass and volume this week. We spent time learning how to use our place value sliders to multiply and divide by 10, 100 and 1000 as we would need this to be able to convert. Once we were able to convert, we used these skills to help compare measures of different units.
In English, we have finished the Ice Palace and Ivan's story. We summarised the book and realised that it followed the classic pattern of a quest. We then looked into creating our own quests. We planned a hero, a problem, a journey, an enemy and an ending to our own quest that we then started to write. We wrote the first paragraph, introducing our character and setting with a range of openers, expanded noun phrases, figurative language and a range of simple, compound and complex sentences.
In our afternoons, we have continued looking at Egypt in our Topic lessons and we have started creating some festive artwork. On Monday, we researched Howard Carter's 1922 discovery of King Tut's tomb using a number of different sources. On Tuesday, we completed an exciting write based on an archaeologist discovering an Egyptian artefact and entering a mysterious pyramid. On Wednesday, we created some wonderful stained glass windows on which depicted a silhouetted nativity scene. Stacey was in on Friday continuing to work with the children on their drama productions.
We are still encouraging the children to play as much Times Tables Rockstars (ttrockstars.com) at home. When logging in, please select 'Chilton Primary School, Ramsgate'. Children's log ins are the same as their MyMaths log ins (please see your teacher if you need your child's log in).
We are going to be looking at the Ancient Sumer civilisation soon in comparison with Ancient Egypt. For their home learning, we would like the children to research Ancient Sumer.
Online book club!
So that the children can share their reading choices we have created an online book club. When they have read a book that they have loved, they can log in and write a review on our site. The link to this site is below:
https://padlet.com/michaelagale22/h7n5ff4vam8w
The children will be given a password so only the children and families of Year 4 can view comments.
We can't wait to see what they are reading!
IMPORTANT DATES
11th/13th – Christmas Come Dine with Me
13th December – Treat day
13th December – Christmas Fair – 3.30 – 5pm
16th December – Class Parties
18th December – End of term