Weekly News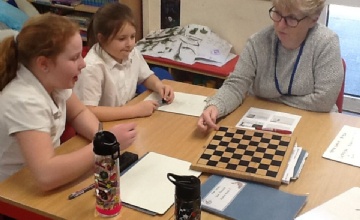 Weekly News – 7th February
We hope everybody has a lovely half term and comes back refreshed ready for Term 4 on Tuesday 25th February (in sports wear for Personal Challenge day!)
ALL TOYS FROM HOME (BEYBLADES FOR BEYBLADE CLUB ARE ALLOWED AT LUNCH TIME ONLY) ARE NOW NOT ALLOWED IN SCHOOL.
In Maths this week, we having been working on co-ordinates. We have plotted and identified them on a variety of grids before moving on to translations and moving points. We also created shapes by plotting given co-ordinates and finding missing co-ordinates to complete shapes. We also created a map of the land from Clockwork and worked out how to translate our character's locations between different locations.
In English, we wrote about Princess Mariposa and what she is like on both the inside and the outside. We also completed a storyboard detailing and summarising all that occurred in Fritz's Story to show our understanding. We have also been linking our e-safety learning into English and we wrote information texts and balanced arguments on screen time and safe internet use.
It has been e-safety week and we have been learning about screen time and why it is important to limit our time on devices. We spent time researching the topic on Monday afternoon before planning and making our own video to warn others of the dangers of too much screen time!
There is no Home Learning set for the half term.
We are still encouraging the children to play as much Times Tables Rockstars (ttrockstars.com) at home. When logging in, please select 'Chilton Primary School, Ramsgate'. Children's log ins are the same as their MyMaths log ins (please see your teacher if you need your child's log in).
Online book club!
So that the children can share their reading choices we have created an online book club. When they have read a book that they have loved, they can log in and write a review on our site. The link to this site is below:
https://padlet.com/michaelagale22/h7n5ff4vam8w
The children will be given a password so only the children and families of Year 4 can view comments.
We can't wait to see what they are reading!
IMPORTANT DATES
Monday 24 February – Staff Development Day
Tuesday 25th February – Personal Challenge Day!
week beginning 2nd March – Book Week
5th March – Book Day