Weekly News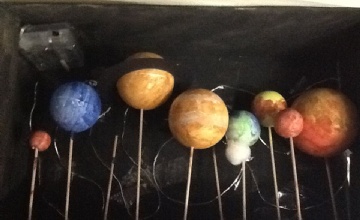 This week has been out of this world!
We have absolutely loved Space week! We really enjoyed the planetarium on Monday - we found out so many interesting facts! Our English lessons have been based on different space learning. First, we learnt about Perseus and Medusa. We acted out the story and then turned them into cartoons. We then created amazing descriptions of Medusa or Perseus. On Wednesday we pretended that we were headed out to space and wrote diary entries about our experiences as an astronaut. On Thursday we listened to Holst's 'The Planets' and wrote some incredible personification of the planets. It has been an amazing week for our writing!

In Maths this week we have been consolidating our understanding of time. This is still a tricky area for a lot of us. We were converting between 12 and 24 hour clocks, converting minutes into hours using multiplication and division, and we solved duration of time problems. We will continue to consolidate this learning next week with some of us moving on to time investigations.

In Topic this week we have been learning about tectonic plates. Team Aqua are getting ready to share their learning with you in their class assembly.
Coming up
Next week we have a PCSO enrichment morning! The children will have a morning of fun activities including fingerprinting!
In English we will be learning through a book called, 'Pebble in my Pocket' - a story about the history of the Planet Earth
Reminders:
Team Aqua's class assembly is on Wednesday at 9:00am - we can't wait to see you!
Mothers Day Come Dine With Me is on the 29th March
LOVE TO LEARN
This week we have set a MyMaths Time task. The children can also practise their time tables.