Weekly News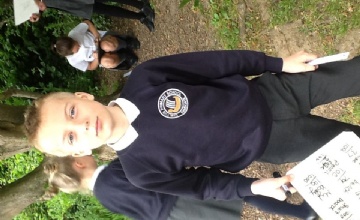 Check out what Year 4 have been up to this week!
Weekly News - 24th June 2018
What a wonderful Term 5! Have a great week's break and we will see you back on Tuesday 4th June (Monday 3rd June is an INSET day)
In our Maths lessons this week, we have been working with co-ordinates. We have spent time plotting points and finding the co-ordinates of given points (remembering to go along the corridor and up the stairs, of course!). We then worked on using co-ordinates to create shapes on grids and then translating (moving) those shapes. We really challenged ourselves by thinking over 1, 2 and 4 quadrants.
In English, we have finally finished reading The Watertower. Both Team Aqua and Team Topaz thoroughly enjoyed discussing the ending and coming to their own conclusions about what really happened to Bubba in the tank. We created our own news reports, showing viewpoint, discussing whether the watertower should be kept or destroyed. We then filmed our news bulletins, interviewing our various guests and experts from the Preston community.
We enjoyed an exciting exit point for our Active Planet topic where we took some of the wonderful Love to Learn volcanoes that have been brought in and made them erupt! We will start our new topic 'Shake It!' in Term 6.
We have continued working on our Good to be Me topic and had a wonderful parade on Friday. Thank you to all the parents and carers who came to support us. Team Aqua and Team Topaz have also continued working on their Friday afternoon drama performance. Scripts and costume sheets have been sent home!