Weekly News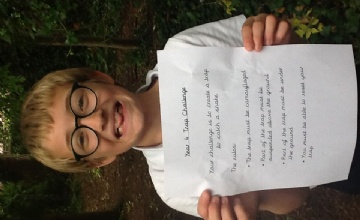 Have a look at what Year 4 have been up to this week!
Weekly News – 7thh June 2018
Welcome back! We hope you all had a fantastic week off.
In our Maths lessons this week, we have been focusing on measurement. We looking at comparing different volumes and converting between millilitres and litres. We used place value sliders to help us multiply and divide by 1000. We then estimated and measured different objects, focusing on our estimation skills by trying to give as accurate estimations as possible. We also completed a trail run of the Year 4 Multiplication Check.
In English, we have started reading a new, exciting book called 'The Wizards of Once'. We read Chapter 1, which showed Xar, a wizard, journeying through the Badwoods with his gang searching for a witch. We summarised and clarified in our Guided Reading lessons and focused on setting descriptions in English. Before we started the book, we wrote a description of a magical setting to wet our appetites before planning and writing a description of the creepy Badwoods.
We completed our entry point for our new IPC topic 'Shake It!'. We went to the playground and acted as molecules in liquids, gases and solids. We then transition between the different states to give us an understanding of how the molecules work. Team Aqua and Team Topaz have also had two sessions with Stacy, working on their drama performance which will be performed on Friday 14th June (Please come and join us in the hall at 2pm!)
There is a MyMaths task set, due Wednesday 12th June 2019.