Weekly News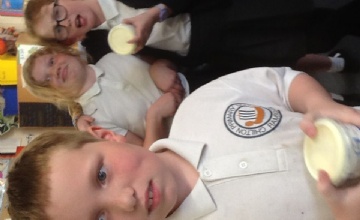 Have a look at what Year 4 have been up to this week!
Weekly News – 14thh June 2018
In our Maths lessons this week, we have been practising our four operations skills relating to volume and capacity. We spent time working on addition, subtraction, multiplication and division. We also spent more time working on converting between millilitres and litres.
In English, we have continued our exciting new story 'The Wizards of Once'. This week, we read Chapter 2, which introduced the Warrior Princess, Wish and her bodyguard Bodkin. In our writing lessons, we practised using a range of different sentence openers and we used a range of simple, compound and complex sentences to make our writing as exciting as possible.
In Topic, we completed an investigation turning a liquid into a solid. We had cream and we then shared ideas on how we could turn the cream into solid. The ideas we came up with included shaking it, whisking it, freezing it, heating it and stirring it. We then made a number of predictions on what we thought would happen, giving reasons for our predictions. Some were successful and we ended up with some butter!
Team Topaz and Team Aqua also spent a lot of time practising their drama performance with Stacey. Thanks to all the parents that came to see our shows! The children had a wonderful time during all of their drama sessions!
Home learning:
There is no right or wrong way to complete a Love to Learn task! Please be as imaginative or as creative as you would like! Love to Learn tasks should be returned on the Wednesday following them being set. Whilst books may not be formally marked, in class we will spend time looking at and enjoying what everyone has learned at home and rewards and house points will be given!
For their Home Learning task, please could children design their dream milkshake recipe.