Weekly News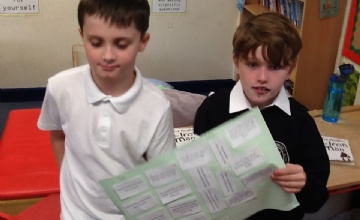 Check out what Year 4 have been up to this week!
Weekly News – 13th September 2019
In our Maths lessons this week, we have been working on additions. We have looked at a number of methods of how to add numbers and a learnt a number of new words that mean you need to add. We have been working on concrete, pictorial and abstract ideas relating to addition.
In English, we have continued reading the Iron Man, finishing chapter 2. We have been working on the skills required to write a recount. We have used a range of time conjunctions to link events and have worked on writing in the correct tense. We have written about the Iron Man and an exciting big write giving an account of a trip to the safari, a haunted house or scuba diving with great white sharks!
Our IPC topic, Inventions that changed the world, has really kicked off this week! Firstly, we wrote a report on the invention we made in our entry point including all its details and instructions on how to use it. Then, we created adverts to show off our amazing products. We also researched a number of classroom inventions and presented our findings in a number of interesting ways including PicCollages on the iPads.
For home learning, there are MyMaths tasks set on Place Value and on Addition due on Wednesday 18/10/19.