Weekly News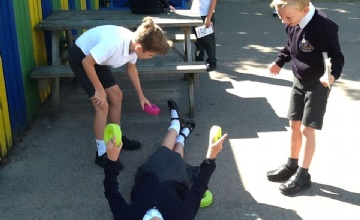 Check what Year 4 have been up to this week!
Weekly News – 20thh September 2019
In our Maths lessons this week, we have moved on to using subtraction to solve number problems. We looked at and practised a number of different methods including using manipulatives, jottings and the column method. We then discussed what needed to be done when subtractions were impossible and regrouping was needed. We also looked at some methods to help us subtract in our heads.
In English, we have read the exciting chapter three of 'The Iron Man' where the Iron Man breaks out of the trap that where Hogarth lured him. Luckily, Hogarth has another genius idea that keeps both the farmers and the Iron Man happy. In our writing, we have been focusing on writing speech. We have looked at inverted commas and how they are used, we have used a range of exciting synonyms for said and experimented with our use of reporting clauses.
We have continued working on our IPC topic 'Inventions that Changed the World' in our afternoons this week. We looked at the Islamic Golden Age of inventions and researched a set of important discoveries in that time. We then ranked these in order of importance based on how they have affected our modern lives. We then learnt all about the history of flight and created some exciting timeline that displayed this information creatively.
To help us continue our Topic learning, please could children, if possible, bring in a toy with moving parts (doll with moving limbs, puppet eg.) for next week's learning.
Times Tables Rockstars (ttrockstars.com) has been introduced to the children this week. Please have a go at home. When logging in, please select 'Chilton Primary School, Ramsgate'. Children's log ins are the same as their MyMaths log ins (please see your teacher if you need your child's log in).
For their homework, children have been given Love to Learn books. Please could they decorate them in an imaginative way that is personal to them.
We will also be visiting Courtstairs for a community project next week (Friday 27th PM) and require some parental volunteers. Please let your class teacher know if you are available to help.
IMPORTANT DATES:
1st October – Harvest Assembly
2nd October – Team Azure Class Assembly
3rd October – Maths Mastermind
10th October - Individual school photos