Weekly News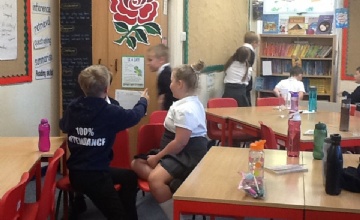 Check out what Year 4 have been up to this week.
Weekly News – 20thh September 2019
In our Maths lessons this week, we have been learning how to multiply. First, we looked at what happens to numbers when you multiply them by one and zero. We then used our place value sliders to help us understand how we multiply by 10, 100 and 1000. We then moved on to multiplying two and three digit numbers by one digit numbers using a range of different methods. We have also been using Times Tables Rockstars in class; thank you to all the parents who have been playing at home with their children!
In English, we have finished the Iron Man book and what an exciting ending! In preparation for our newspaper reports detailing the battle between the Iron Man and the space-bat-angel-dragon, we have been practised the different skills involved in writing a newspaper report, focusing specifically on the use of reported speech. Strangely, Marissa from Team Peacock and Albie from Team Azure, were found asleep in different locations during Monday's English lesson. Fortunately, there were some witnesses in Miss Keam, Miss Cheshire and Mr McAuley, who saw what happened! We were then able to use what they said in our newspaper reports.
We have continued working on our IPC topic 'Inventions that Changed the World' in our afternoons this week. We made a pinhole camera, based on the camera obscura designed by Ibn al-Haitham. We then wrote up instructions on how to make pinhole cameras and included detailed, labelled diagrams to show what we had done. Team Azure also investigated toys and how they work, before designing their own to make and Team Peacock started their Year 4 French learning with an interesting refresher lesson!
We are currently encouraging the children to play as much Times Tables Rockstars (ttrockstars.com) at home. When logging in, please select 'Chilton Primary School, Ramsgate'. Children's log ins are the same as their MyMaths log ins (please see your teacher if you need your child's log in).
There are multiplication My Maths tasks for the children to complete.
IMPORTANT DATES:
1st October – Harvest Assembly
2nd October – Team Azure Class Assembly
3rd October – Maths Mastermind