Chilton's Cloudburst of Colour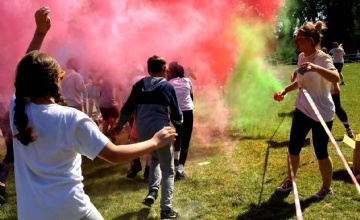 A blizzard of brilliant colour swirled down on Chilton Primary School at the end of term.
The kaleidoscopic event saw children running through a rainbow of different hues at the fun event that was a fitting celebration of the successful Be You, Be Here, Belong school topic.
Pupils from all age groups joined in and the white and light coloured tops worn by hundreds of participants soon became a tie-dye blaze of vivid shades as they were doused with the shimmering showers.
All round the crazy colour run circuit there were special 'stations' where more shimmering showers rained down onto the runners, while families cheered from the sidelines.
The children also chose a variety of sunglasses and goggles to wear as they ploughed through the bright onslaught. Runners laughed, ran, jogged, trotted and walked their way through the multi-coloured spectacle, becoming plastered in the colourful gunk created from natural dyes and corn starch.
Head of School/Director of Education Kate Law said: "It was a brilliant way for the whole school to come together and celebrate the community we belong to – we all had great fun and created treasured memories."
Chilton Primary School is a member of the Viking Academy Trust together with Upton Junior School, Broadstairs, and Ramsgate Arts Primary School.
*For more information contact Head of School/Director of Education Kate Law on 01843 597695.